Welcome everyone to the very first DrumScorps blog! We've been working for a while now on building out this space and we're excited to introduce it to everyone. On this blog, you'll find posts covering a few different topics:
Drum corps - Of course! That's what this site is all about.
Software - We've built DrumScorps using some really cool technologies and we'd like to share a little bit about how this site is made.
Everything in between - We'll also occasionally talk about interesting topics that bridge the worlds of drum corps and software.
Now that we've got the housekeeping out of the way, we'd like to spend the rest of the time in today's blog talking about some exciting new features of DrumScorps as well as taking a small glimpse into the future and some upcoming additions we'll be making to the site.
New features
First, let's take a look at a few of the new things you'll find around the site.
Historical score submissions
One of our long-term goals with DrumScorps is to have the most comprehensive, easy-to-use, and readily available drum corps scores database on the Internet. We're still working towards that goal with our current scores database going back 10 years to the 2013 season. To help us reach our goal our goal, we're asking the community to help us "transcribe" scores from across the Internet.
If you would like to help us with this effort, head over to our Submit a Score page. There, you can enter scores for a historical event and after a careful moderation/verification process on our end to ensure the accuracy of the submission, the scores will be posted to the site. We're hoping with the help of the community, we can have the best scores database out there.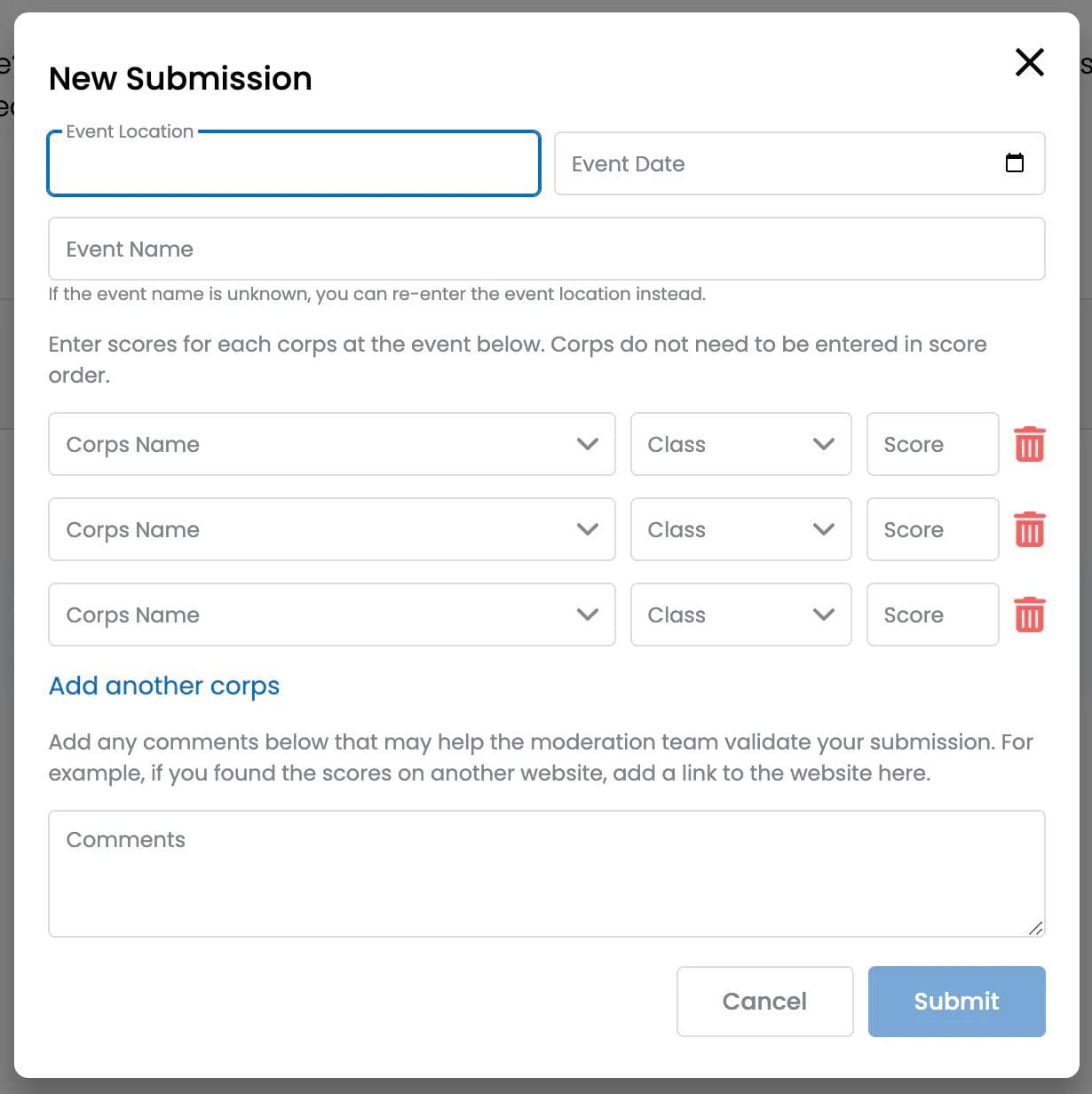 The score submission form on drumscorps.com
UI Improvements
We're always looking to improve the UI on our site. We've been making small changes here and there like changing the default font, choosing text colors with better contrast, and more. While you may not notice these changes as they are rolled out, they will serve us well in the long run by providing a clean, easy-to-navigate UI for everyone that visits the site.
A look into the future
Now we'd like to provide some updates on what you can expect from DrumScorps over the coming weeks and months and into the 2024 season.
First-party news content
Starting soon, we'll be writing and posting our own news content in addition to the current content we aggregate from dci.org and drumcorpsplanet.com. We are actively seeking reporters to produce content for the site as well as a managing new editor to lead the reporting efforts. Since DrumScorps has no ads or other sources of revenue, these are volunteer positions. However, the positions would be great way for aspiring or experienced journalists to improve their resumé.
If interested in these positions, please send an email to contact@drumscorps.com with a summary of your journalism experience as well as some examples of articles that you have written or contributed to.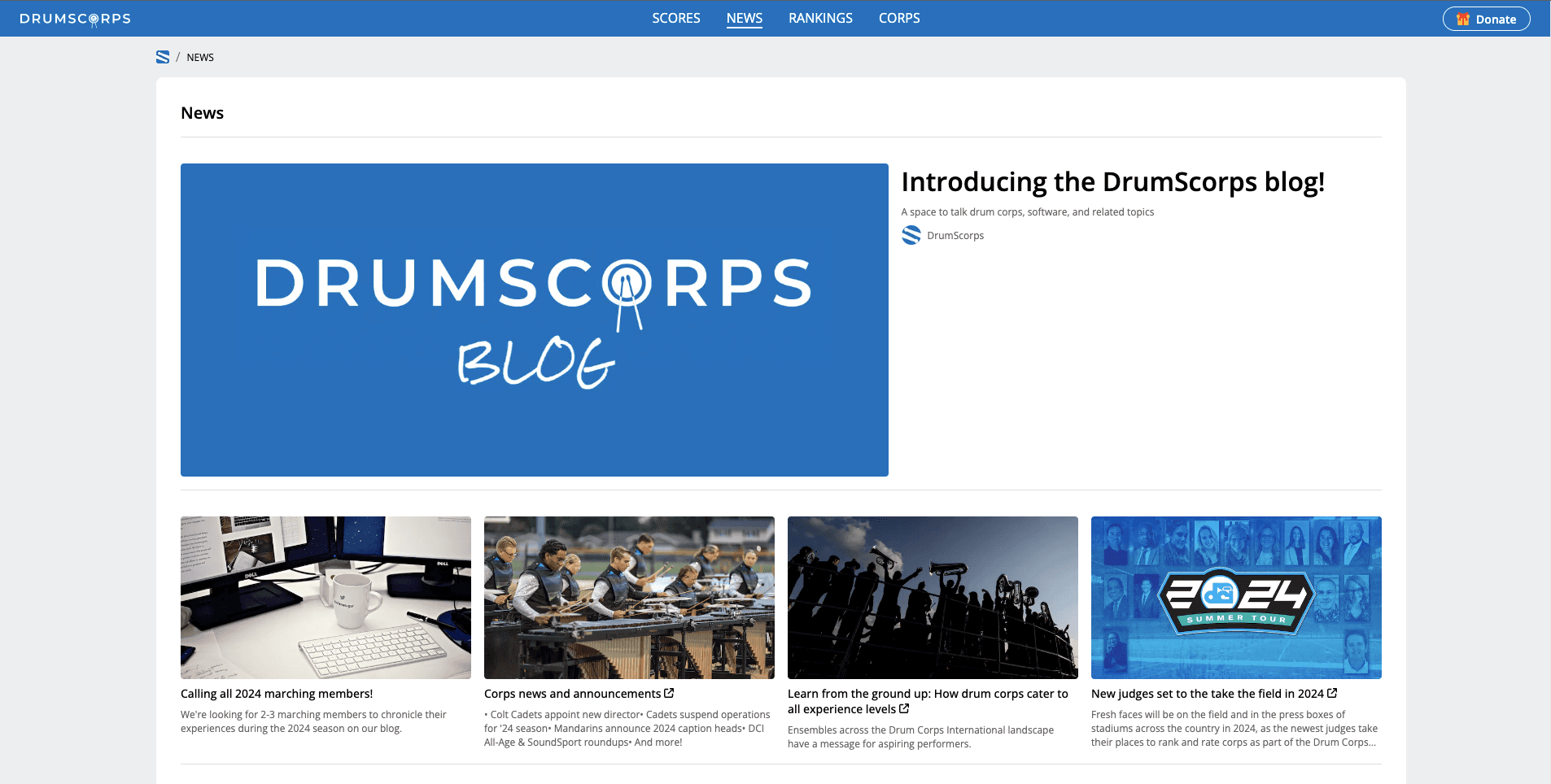 The DrumScorps news page
Fun & games in 2024
We're excited to announce that during the 2024 drum corps season we will be running a season-long score prediction contest! We're still working out the details but basic rules of the contest will be:
Users can login each morning and predict the following for each of that day's shows

Caption winners (brass, percussion, color guard)
Show winner (highest scoring corps at the show)
Highest score

Points will be awarded for correctly predicting caption and show winners
Points will also be award based on how close to the highest score each user's prediction was.
We'll have a leaderboard available on the site to track the best guessers and there might even be a prize for the user that finds themselves at the top of the leaderboard at the end of the season 😃.
Wrapping Up
Today we've taken a look at the present and future of DrumScorps. In an upcoming blog, we'll take a look at the history of DrumScorps and the journey that brought the site to where it is today. We have also many more exciting things to share with you in the coming weeks and months so please check the blog often for updates. Have a great day!